This Baked Chai Donuts recipe is not only healthy but also delicious. It is perfect for the holidays and is so quick and easy to make.
Homemade donuts recipe
Donuts have always been my one true indulgence. We all have that one thing, the one thing that you just simply cannot resist. Luckily over here in South Africa, donuts have been a fairly scarce thing.
Until now... the first ever Krispy Kreme recently opened up in South Africa. As much as I am excited about this, I must admit that it is going to be my downfall of me. I LOVE donuts, the delicious, not-so-sweet spongey part, topped with a yummy sweet and flavourful glaze! Who could resist? Why not make your very own delicious Baked Chai Donuts, way healthier and even more delicious?
Why you'll love this donut recipe
In the spirit of donuts and for the love of donuts I decided to whip up my own batch. That is well... probably WAY better for me than driving to Krispy Kreme and consuming half the store.
Besides these Baked Chai Donuts are to die for! I have always been obsessed with chai, there's something very comforting about this delicious spicy flavour.
After making those beautifully fluffy Vanilla Chai Cupcakes, I decided that I would dedicate myself to chai and always try to incorporate this softly spicy flavour in a few recipes every now and then.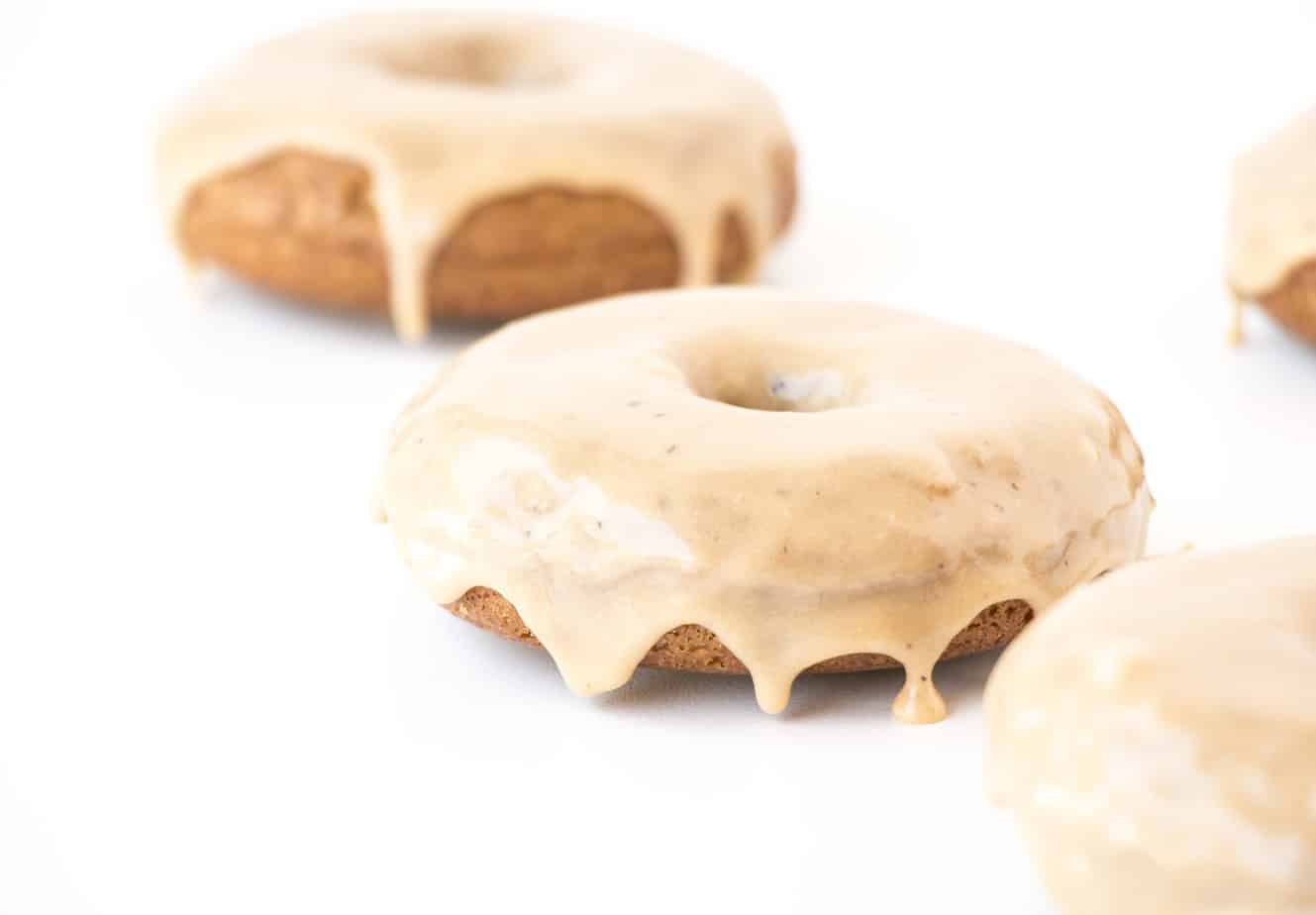 What I love about these Baked Chai Donuts is the fact that they are not at all overwhelming. There is only a hint of chai which gives it this lovely warm and delicate flavour.
They are just as perfectly delicious as any store-bought donut (actually they're better than store-bought), and on top of all of that they are pretty healthy. For me, when it comes to donuts is the most important thing because I will literally end up eating the whole batch.
Baked Donuts
I used a donut pan similar to this one over...here. I only recently acquired a donut pan, and let me tell you this thing is one of the best inventions ever. Donuts are usually drenched in oil which we all know is really not good for us, so by using the donut pan you can make your favourite donuts without all that added oil from the frying process.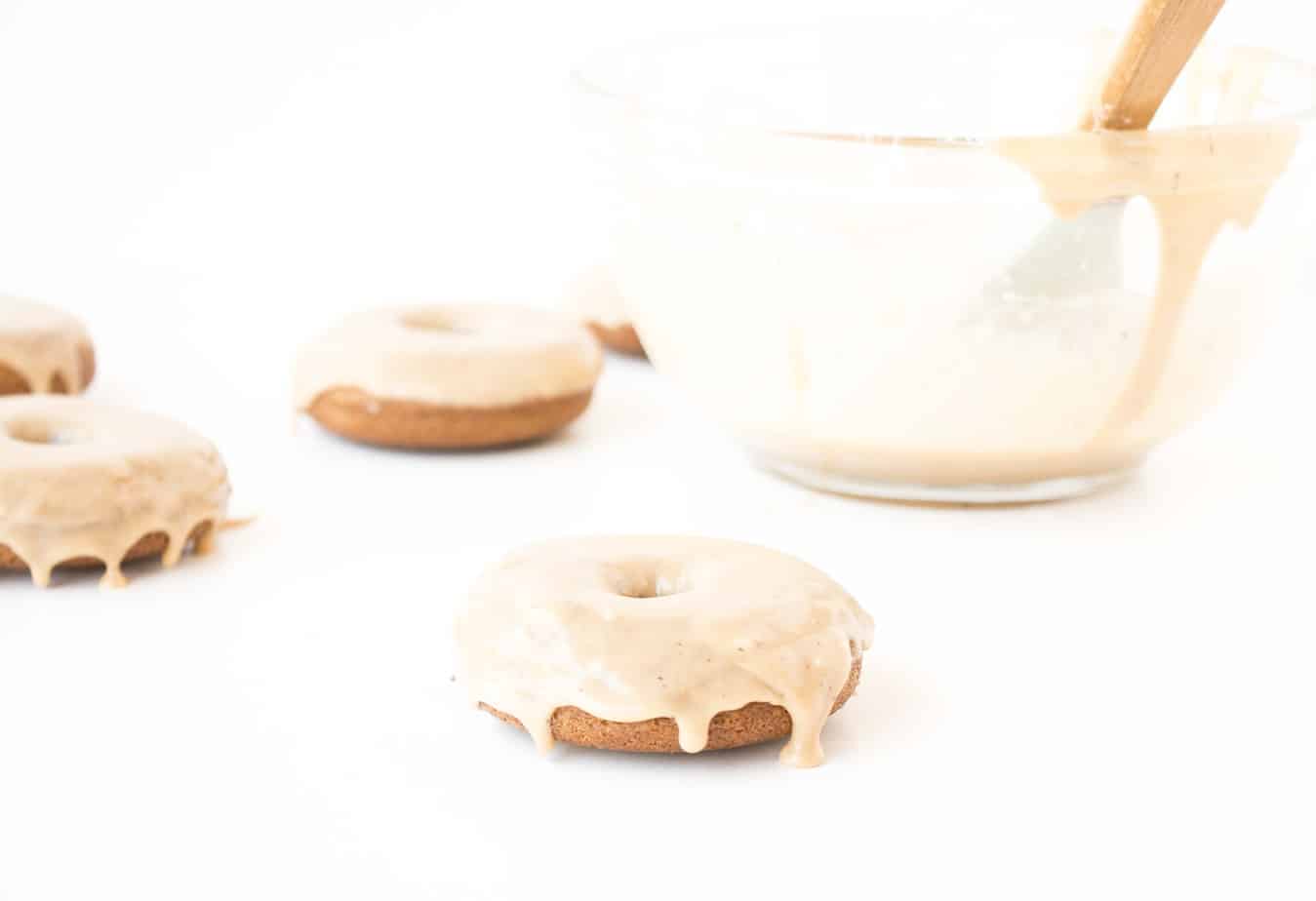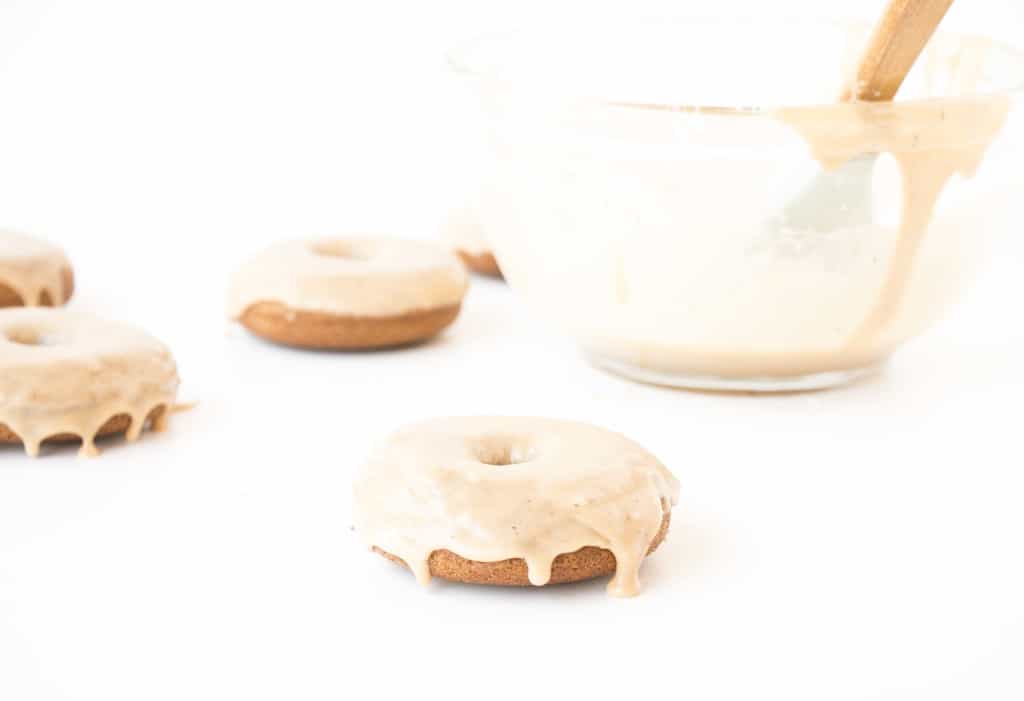 To make the Baked Chai Donuts
I used normal chai tea to get the true chai flavour. So I boil the tea bags in the milk and allowed it to simmer for about 10min. Then I mixed together all the dry ingredients and added the wet ingredients (except 2 tablespoon of the chai milk, which you reserve for the glaze).
Then you simply spoon the batter into your donut pan and bake them for 10-12 min. And then you have your very own healthy, home-baked donuts. It literally takes less time than driving to Krispy Kreme.
You can add any glaze you want, but I topped my Baked Chai Donuts with a little lightly chai-flavoured glaze, which is delicious and just boosts the chai flavour a little.
I hope you love this for Baked Chai Donuts. And follow me on Instagram or Facebook for even more food and drink inspiration!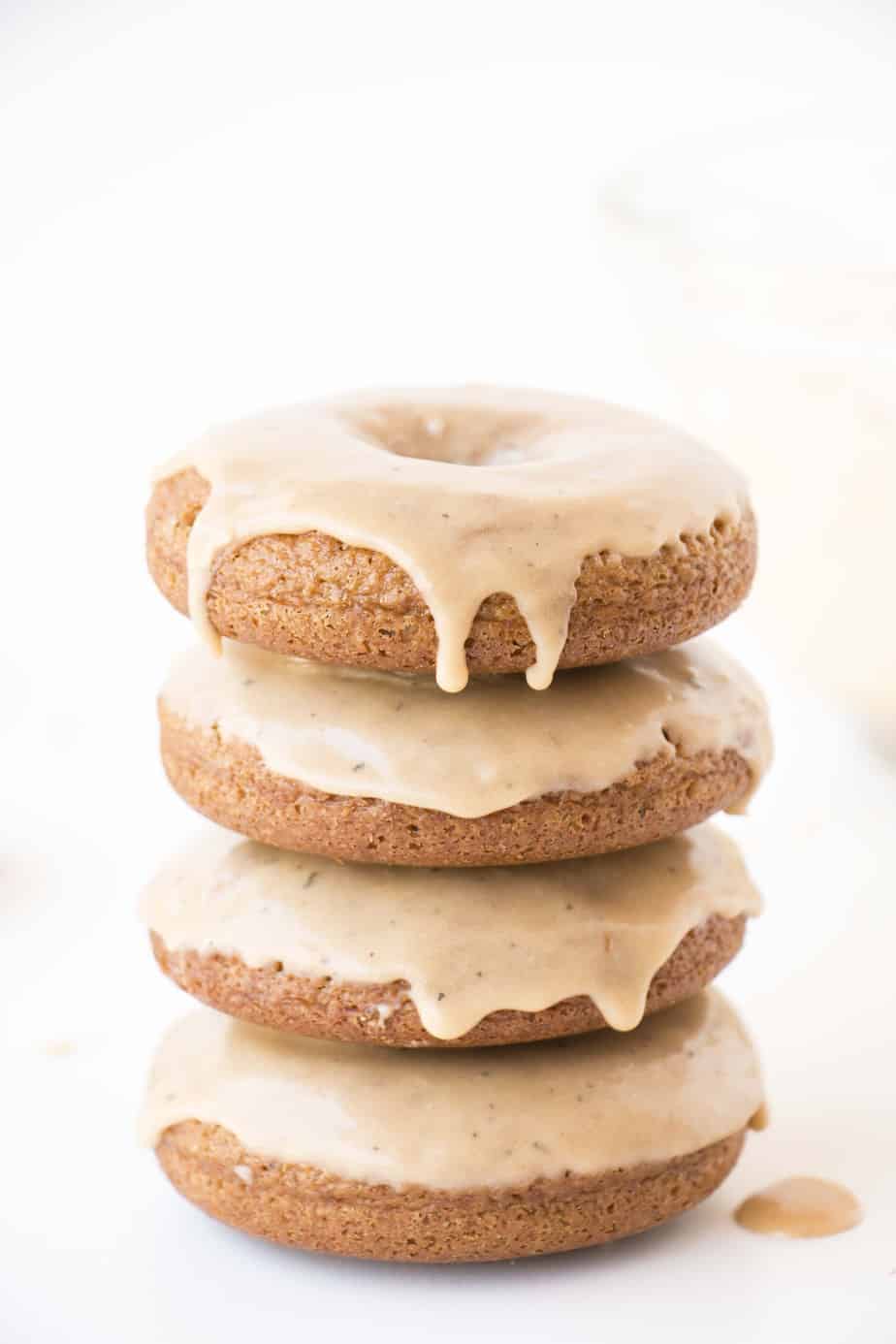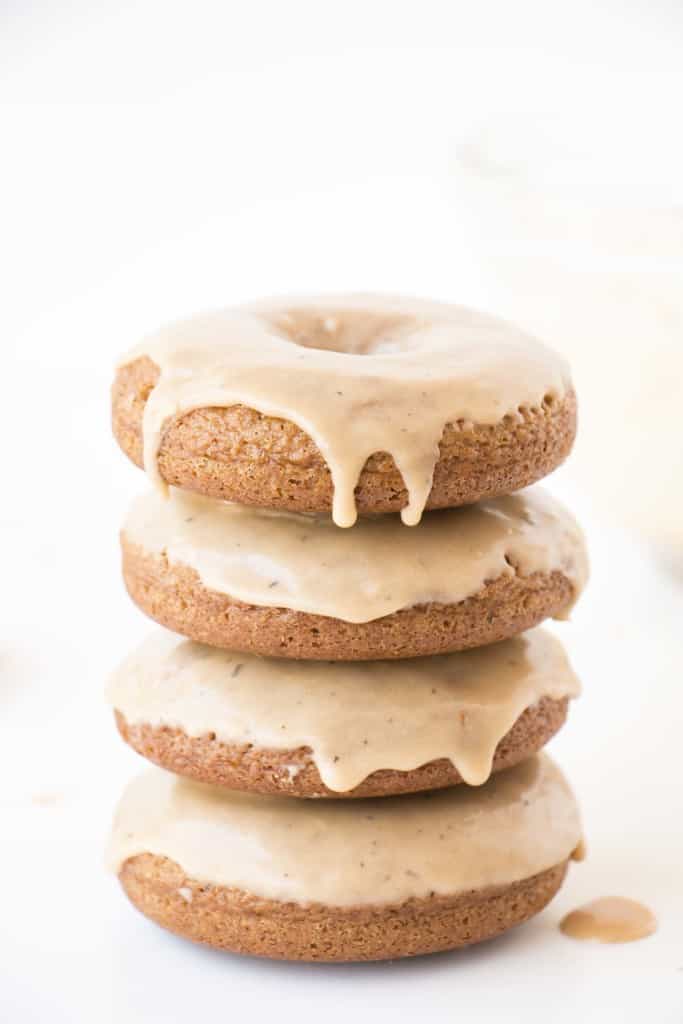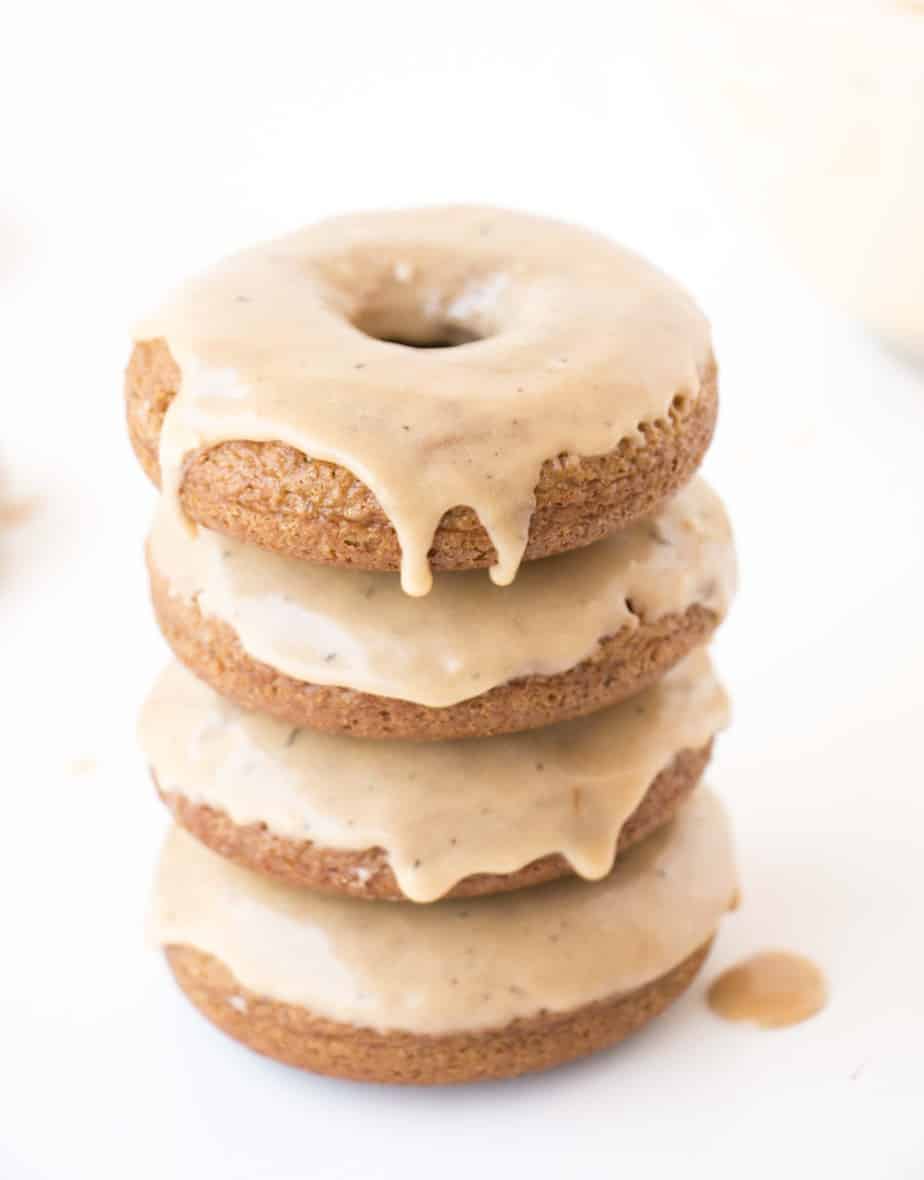 Baked Chai Donuts
Ingredients
1

Cup

& 2 tablespoon Milk

or Almond Milk

4

Bags Chai Tea

11/2

teaspoon

Baking Powder

1

Cup

Wholewheat Flour

½

Cup

Sugar/Sweetener

1

teaspoon

Cinnamon

1

Egg

or flax egg

4

tablespoon

Butter

or vegan Margarine

½

teaspoon

Vinegar

2

teaspoon

vanilla

Pinch

of salt
For the Glaze:
1

Cup

Powdered Sugar

sifted

2

teaspoon

Vanilla
Instructions
Preheat oven to 180ºC/350ºF.

Spray donut pan with non-stick spray.

Place the milk and tea bags in a saucepan over high heat and bring to a boil.

Lower heat and allow mixture to simmer for 10min.

Meanwhile, mix together all the dry ingredients.

Add all the remaining ingredients to the dry ingredients as mix well.

Remove the tea bags from the milk and set aside 2 tablespoon of the mixture.

Slowly add the chai milk to the other ingredients and mix until well incorporated.

Spoon batter into the donut pan and bake for 10-12min.

Remove from oven and allow to cool slightly.
For the Glaze:
Mix together the powdered sugar, vanilla and remaining 2 tablespoon of the chai milk mixture.

Dip the donuts into the glaze and serve.
Tried this recipe?
Let us know how it was in the comments below
Tag us on Instagram!
We love seeing people make our recipes. Mention @baking_ginger
Other Recipes You May Enjoy:
Cinnamon Pumpkin Donuts: