White Chocolate & Cranberry Sugar Cookies - An easy dessert that takes 5min to make and looks and tastes fabulous.
Sugar cookies are one of my favourite things to make. You can dress them up by cutting them out into shapes and decorating them with royal icing. Which is always beautiful and a challenge. I wish I was like more like Amber from Sweetambs when it comes to sugar cookies. I mean have you seen the beautiful things she makes? I'll get there...one day 😉
For now this is my way of doing sugar cookies. These White Chocolate & Cranberry Sugar cookies are the lazy girls way of gushing up a sugar cookie. No rolling out, no cutting and no decorating. Now that's what I'm talking about. All I did was whip up a batch of my favourite soft sugar cookies, rolled them into little (okay some aren't so little) balls, flattened them a tiny bit and baked them. When they were all baked and cooled, I topped them with some delicious melted white chocolate and finally sprinkled on some delicious dried cranberries. They came out looking so beautiful and they tasted even more delicious than they looked. They were deliciously chewy and not very sweet, but then the white chocolate on top added that little bit of sweetness and finally it is ended off with a bit of tangy cranberries. Simple. Beautiful. Easy. Delicious.
These White Chocolate & Cranberry Sugar Cookies was one of my favourite recipes that I did for Le Creuset. Mostly because it was so easy but yet it came out tasty scrumptiously yummy and looking so fantastic. That's what we all want from a recipe right? Something that takes a few minutes to make but will still wow all your guests or even simply to wow yourself (it's okay to give yourself some good ol lovin).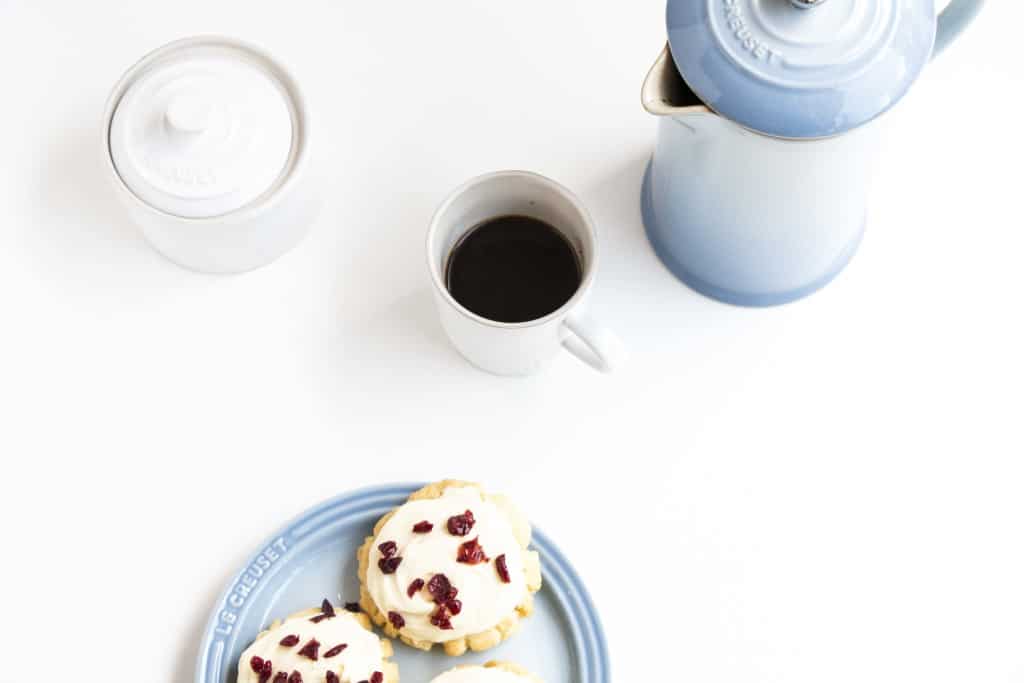 Before we get to that delicious recipe. Why not signup for my email list. No spam, I promise. Only delicious recipes delivered straight to your inbox. Signup over...HERE.




White Chocolate & Cranberry Sugar Cookies
Ingredients
1

cup

butter

room temperature

1

cup

sugar

1

tsp

vanilla

1

egg

2

tsp

baking powder

3

cups

flour

2

tbsp

milk

1

cup

dried cranberries

chopped

150

g

white chocolate
Instructions
Preheat oven to 180ºC and line baking sheet with parchment paper.

Cream the butter, sugar and egg together until light and fluffy.

Sift in the dry ingredients and mix. Add milk and mix until dough comes together.

Roll dough into golf ball sized balls and press flat slightly.

Bake for 10 minutes or until golden brown.

Allow cookies to cool.

Melt chocolate in the microwave, stirring the chocolate every 30 seconds.

Scoop a teaspoon of melted chocolate over each cookie and sprinkle on the dried cranberries.
Sharing is caring 😉 Give it PIN!