Healthy Valentines Vanilla Donuts - A quick and easy donut recipe that looks beautiful, tastes delicious and is a whole healthier than your average donut.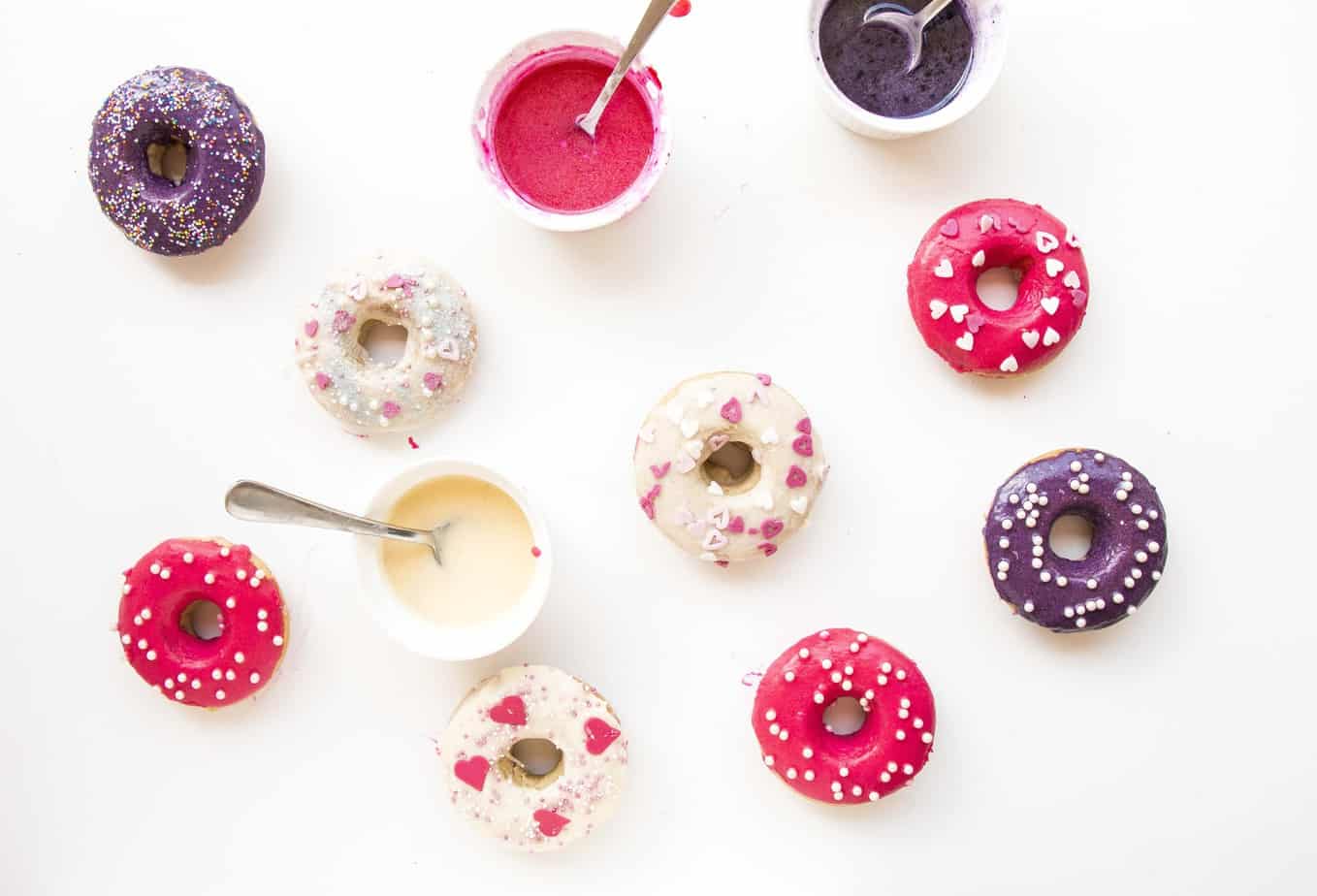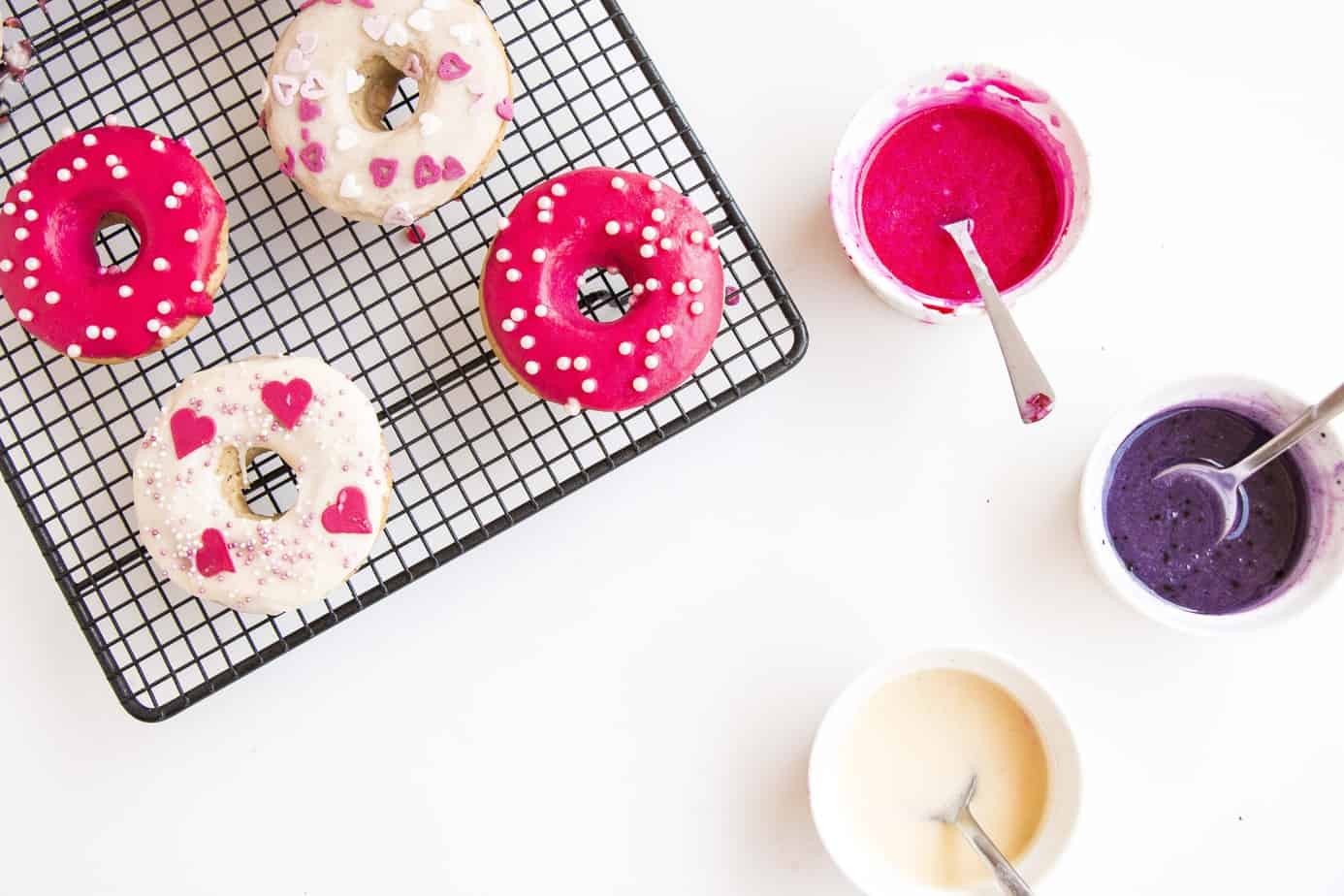 Valentines day is one those weird "holidays", I don't really believe in it that much but it is always fun to get spoiled and also to spoil someone else and to bring a bit of happiness to someone's day. These Healthy Valentines Vanilla Donuts do just that, they are delicious and also bright and cheerful. They are awesome to share with only your loved one, with friends or family or to send them to school with your kids. Best part... they are insanely easy to make! As much as I love doing something for someone else, I also don't want to spend my days slaving away to make a batch of donuts for someone... that sounds a little harsh doesn't it? oops...
I'm really horrible when it comes to Valentines day, because I always realise a little too late that it is Valentines day. This ALWAYS results in me having to find some quick way of making the day special or more than often I end up doing nothing...which is never good! I think that's why I have created things like these yummy Healthy Valentines Vanilla Donuts, it probably happened one year when I was in a rush to find something special and festive that I could make without it taking any time.
These Healthy Valentines Vanilla Donuts are also pretty healthy because they are baked instead of fried, you can easily make it vegan, it is low in fat and of course and most importantly they are still just as delicious and beautiful. You can really do anything for the topping, I liked the idea of using really bright colours and then chucking on a whole bunch of sprinkles, who doesn't love sprinkles right? I mean have you guys seen Sweetpolita's Spinkle shop? It is AMAZING! I might be a little obsessed with everything she does 😉
To make these Healthy Valentines Vanilla Donuts I used a donut pan similar to this awesome Wilton's Donut Pan. So all you have to do is whip up the batter, scoop it into the Donut Pan and bake them. Then make a super quick glaze, dip the donuts and THEN the best part... going crazy with sprinkles!
Healthy Valentines Vanilla Donuts
Ingredients
1 ¼

Flour/Wholewheat Flour

1 ½

tsp

Baking Powder

1

Egg/Flax Egg

4

tsp

Vanilla Essence

½

Cup

Sugar

Pinch

of Salt

4

Tbsp

Coconut Oil/Melted Butter

½

tsp

Vinegar

1

Cup

Almond Milk/Skim Milk
For the Glaze:
1 ½

Cups

Powdered Sugar

1

tsp

Vanilla

3

Tbsp

Butter/Coconut Oil

2-3

Tbsp

Milk/Almond Milk

Food Colouring

Sprinkles
Instructions
Preheat oven to 180ºC/350ºF and spray Donut Pan with non-stick spray.

Combine all the dry ingredients.

Add the wet ingredients to the dry mixture and mix until well incorporated

Pour batter into pan.

Bake for 10-12min.
For the Glaze:
Mix all the ingredients together.

Dip the donuts and add sprinkles.
Show some LOVE, Pin it! 🙂