The Best Carrot Cake Recipe Ever - A delicious, easy to make moist, spicy and creamy recipe. The perfect recipe for Easter.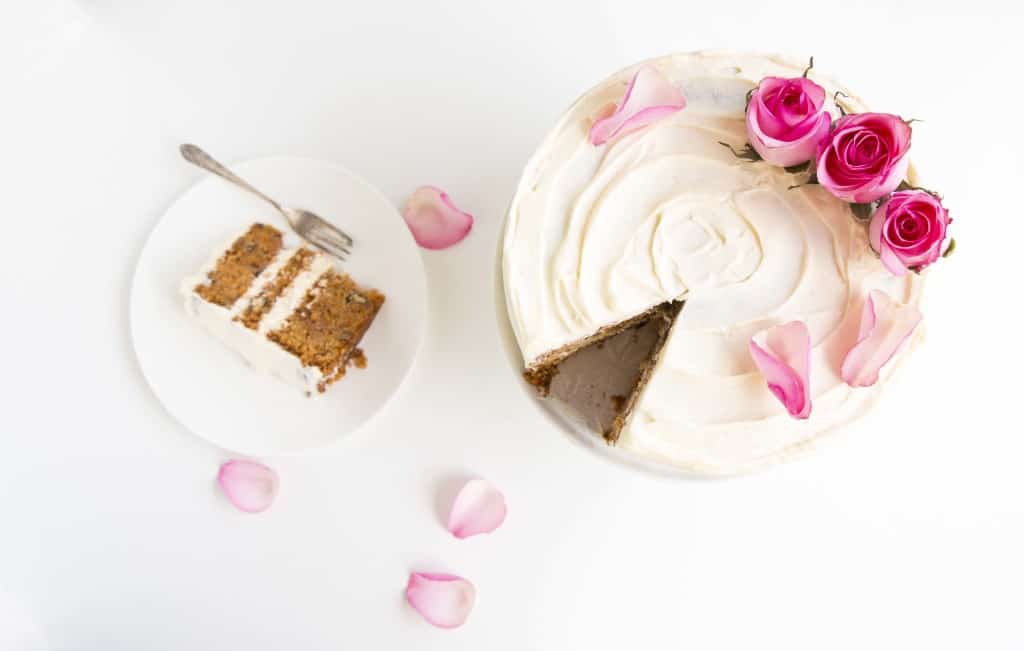 This last week has been such a hectic week, with many lows and a few highs. It was absoloutely exhausting. So getting a little time in the weekend to get into the kitchen and to bake is pure therapy. Most people would probably sit around binge watching their favourite series or sleep in a little. And while I could spend hours binge watching Greys Anatomy, there is simply nothing more relaxing to me than hearing the sound of my Kitchen Aid and and getting my bake on! And since it is almost Easter time, there really was no other way but to bake The Best Carrot Cake Recipe Ever! Am I right?
The Best Ever Carrot Cake Recipe is as it's name says, simply the best. And I say this as a self proclaimed cake connoisseur. Yes I think I have made and eaten enough cakes to name myself so. So I can truly and honestly say this is The Best Carrot Cake Recipe Ever. It is perfectly moist, crunchy, "carroty" and a little spicy, smear a little soft cream cheese frosting in and around it and you have absolute scrumptious perfection.
The thing I love the most about this carrot cake is how soft and moist it is. I find that most carrot cakes are often incredibly dry and a little tasteless. So I was on a mission to find a recipe that would be so beautifully moist and packed with flavours of carrot and cinnamon.
On top of it all it is really easy to make. Not complicated at all. So really there is no reason not to make this beautiful cake! If you want something a little smaller. The Moist Carrot Cupcakes is pretty much the same thing but smaller. So there is something for everyone over here ;).
The Best Carrot Cake Recipe Ever
Ingredients
For the Carrot Cake
480

g

Sugar

250

g

Cake Flour

2

tsp

Baking Powder

1

tsp

Baking Soda

6

Large Eggs

220

ml

Oil

300

g

Grated Carrots

90

g

Walnuts

chopped

2

tsp

Cinnamon

Pinch

of Salt
For the Cream Cheese Frosting:
250

g

Cream Cheese

125

g

Soft Butter

2

Cups

Powdered Sugar

the amount depends on how stiff you want it

2

tsp

Vanilla
Instructions
For the Carrot Cake:
Place the eggs in a bowl and whip until thick and fluffy (it takes about 7-10min)

Add the oil and vanilla to the eggs and continue whipping.

Meanwhile, combine the sugar, salt, flour,cinnamon, baking powder and baking soda.

Add the flour mixture to the egg mixture gradually and mix on low speed.

When everything is combined, fold in the carrots and walnuts.

Pour the batter into 2 20cm round cake tins.

Bake the cakes for about 45-55min or until a fork inserted comes out clean.

Allow the cakes to cool on a wire rack before frosting.
For the Cream Cheese Frosting:
Place all the ingredients into a mixing bowl and using the paddle attachment, cream the mixture until smooth. Depending on the consistency you desire, add more or less powdered sugar.

When the cakes are cooled, you can either cut each layer in into two so that you have a four layered cake or leave it as two layers.

Place a little frosting between each layer. Then stack the layers and use a tiny bit of icing to create a crumb coat and place the cake in the fridge for 5-10min.

Then use the remaining frosting to ice the cake in whatever way you want, and lastly top with beautiful fresh flowers.
Pin It!!