When you need a decadent yet easy dessert this Easy Chocolate Ganache Tart will become your ultimate go-to recipe. Made with dark chocolate, Stork Bake and topped with fresh berries.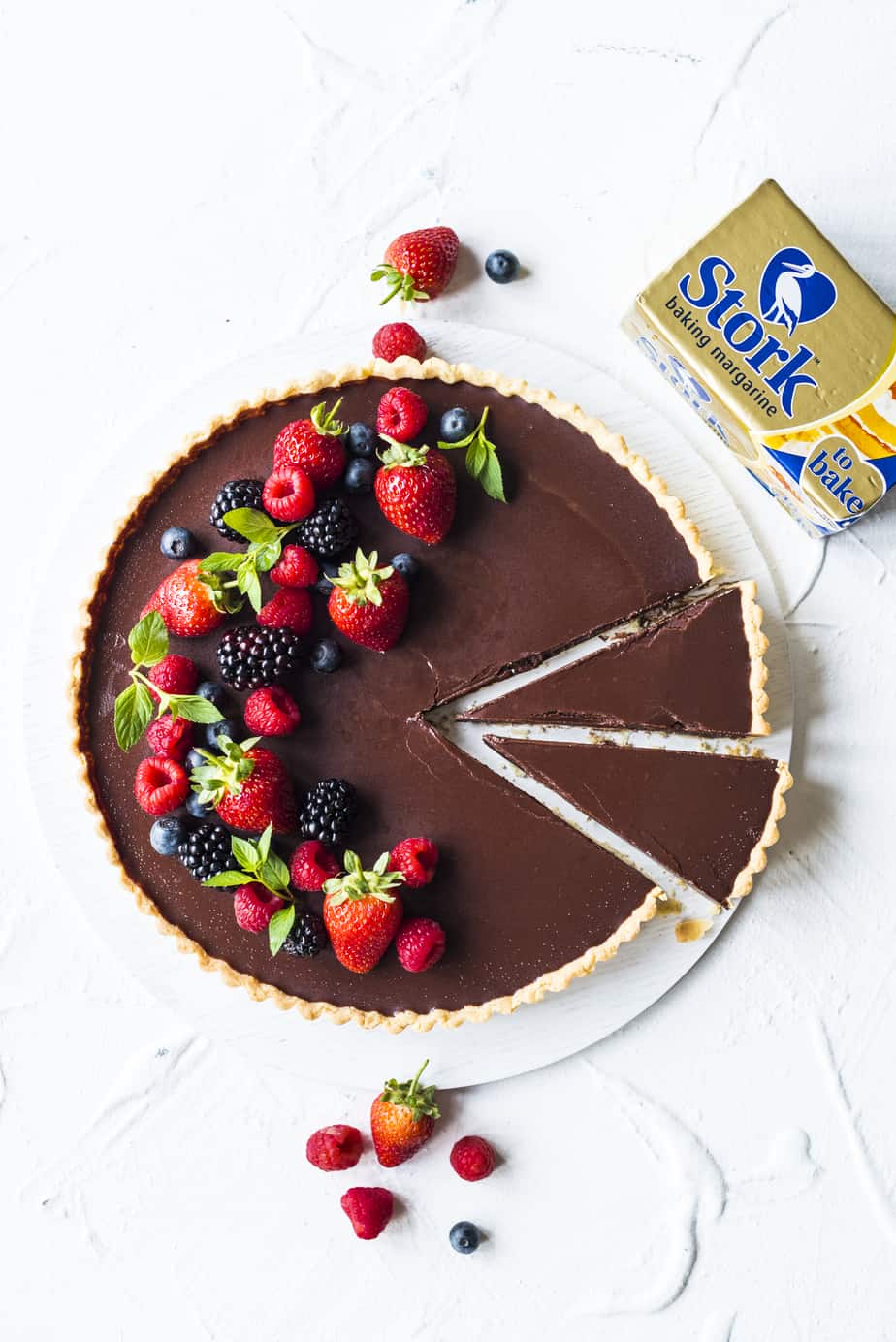 Pretty much all I need in life is chocolate! I'm a happy girl with any form of chocolate. So when Stork asked me to whip up a few recipes, I knew that chocolate had to be involved.
I generally like to keep my desserts fairly simple, yet decadent. I think often people are so afraid of making dessert because it always appears to be this overwhelming and overcomplicated task. It really shouldn't be, because let's be real we want to get to the eating part and spend less time in the kitchen. So for this Easy Chocolate Ganache Tart I made no exception. I kept it simple but I promise it will still wow anyone that digs into a slice (or three).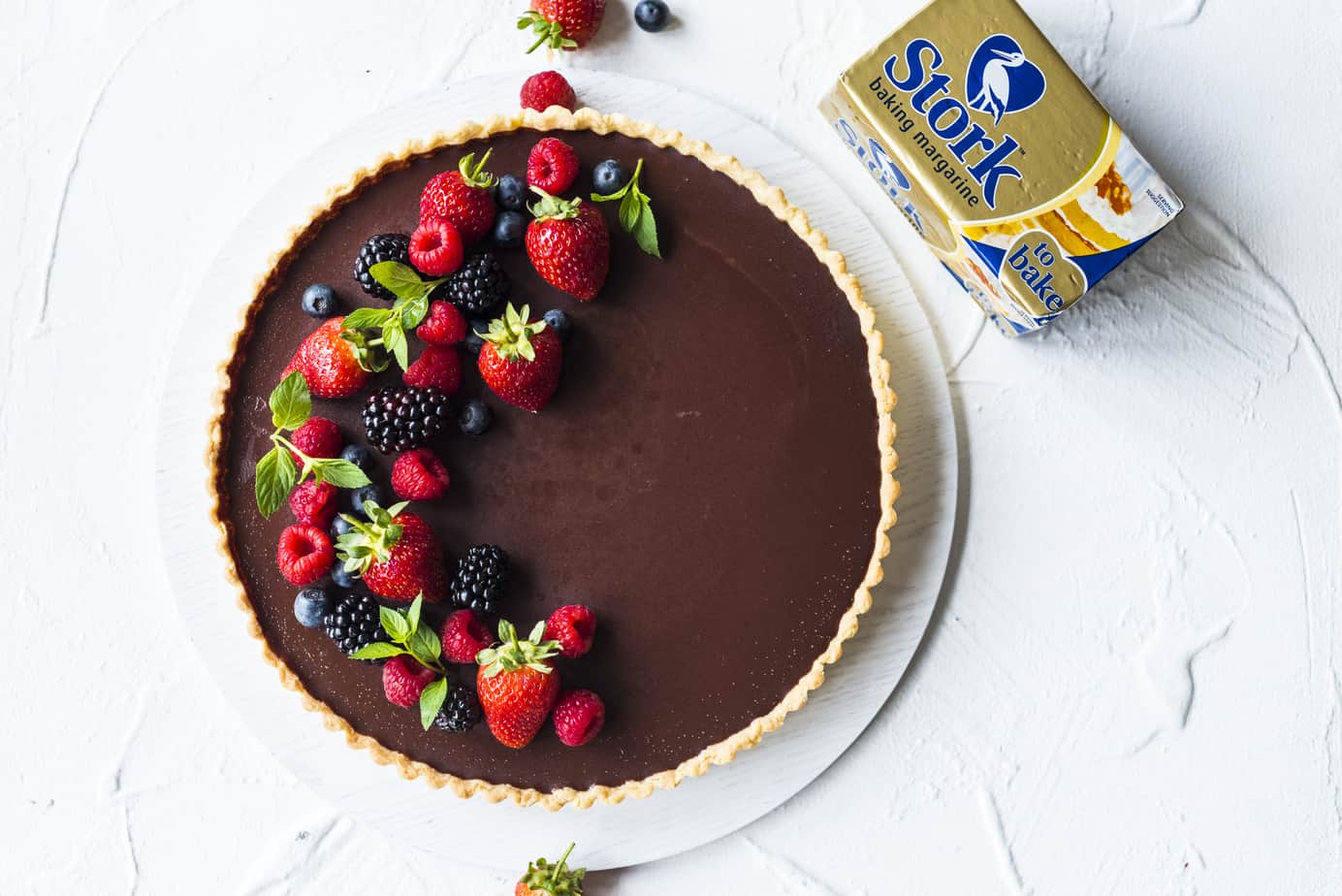 Okay so let's start with the crust. You've got two options here. Option one is to go for a more traditional tart crust (as in the recipe) which will obvs be heavenly, option two is the lazy (yet yummy) version. This involves crushing your favourite biscuit, I like the texture of digestive biscuits, melting a little Stork Bake and mixing that together. How is that guys? Then comes the good stuff. CHOCOLATE!! Jip, we're gonna melt a whole lotta chocolate, pour hot cream over it, add stork bake, maybe a little vanilla and BAM! Chocolate ganache heaven! Pour that over your chilled crust, top it with all of the berries and let it chill in the fridge for a few hours (if you can hold out that long).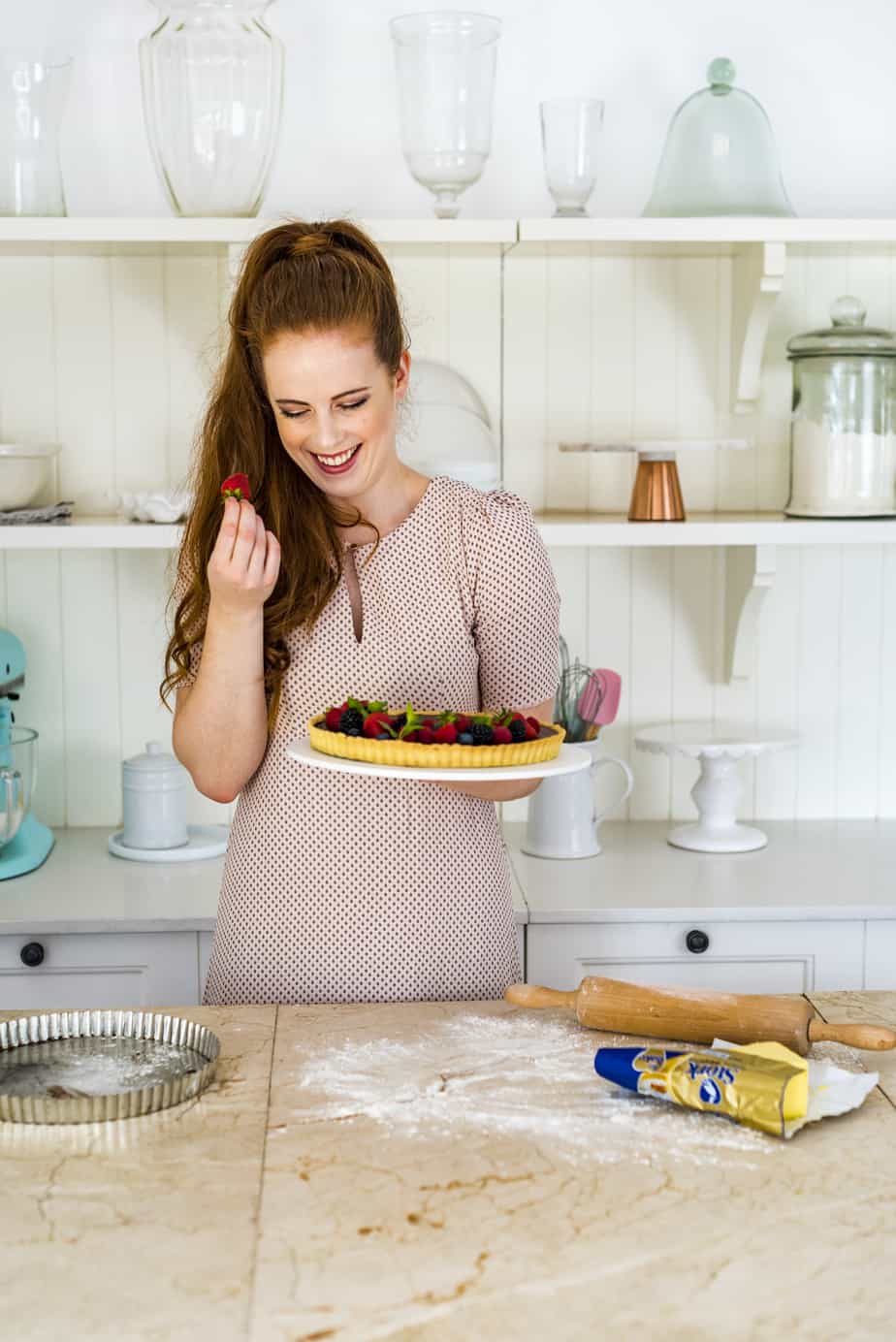 Easy Chocolate Ganache Tart
Ingredients
For the crust:
½

Cup

STORK Bake

½

cup

Icing sugar

1 ¼

Cups

Flour

½

teaspoon

Baking Powder

1

Egg

beaten

Pinch

of Salt
For the ganache:
300

g

Dark Chocolate

100

g

Milk Chocolate

1

Cup

Cream

3

tablespoon

STORK Bake
For the toppings:
Fresh Blueberries

Fresh Strawberries

Fresh Raspberries

Mint
Instructions
For the crust:
Combine the flour, baking powder, icing sugar and salt together in a mixing bowl.

Add the Stork Bake and beat the mixture with an electric mixer.

Add the egg and continue mixing.

Shape the dough into a ball, press it a flat and cover in cling wrap.

Please the dough in the fridge to chill for at least an hour.

Roll the dough out and transfer the dough to a 20cm lose bottomed tart pan and cut off the excess dough.

Chill the crust for another 30minutes before baking.

Cover the crust with foil or baking paper and fill the pan with dried beans or baking weights

Bake the tart crust at 200ºc for 15 minutes, then remove the baking paper and beans and continue baking the crust for another 5-10 minutes or until golden brown.

Remove the tart crust from the oven and allow to cool.
For the filling:
Chop chocolate into small chunks and place in a bowl with Stork bake.

Meanwhile, pour the cream into a small saucepan over medium heat and allow to simmer slightly.

Pour the cream over the Stork Bake and chocolate then allow to stand for 5min before stirring.

Stir the chocolate mixture until all the ingredients are fully combined.

Pour the ganache into the cooled tart shell and place in the fridge for 1 hour to set.

Top with fresh berries and mint.
Tried this recipe?
Let us know how it was in the comments below
Tag us on Instagram!
We love seeing people make our recipes. Mention @baking_ginger
All these beautiful images were taken by the incredibly talented Hein van Tonder