Creamy Homemade Cherry Ice Cream - A delicious, easy to make homemade ice cream recipe.
Today is a beautiful sunny day here in Cape Town, everyone is out and about, jogging along the beach front or catching a coffee with friends. We spent the morning exploring the city, stopping at a tiny little cafe for breakfast and coffee. I just love this city, it's so vibrant and beautiful. Always so inspiring to get lost in a city like Cape Town for a few hours. It really makes you look at life a little differently when you see how other people live and to see different places and things.
After a morning outside there is nothing more satisfying than a delicious cone of creamy ice-cream. Especially if it's Creamy Homemade Cherry Ice Cream. Mmm... I can get lost in a bowl of this stuff! The textures and flavours are perfectly balanced and delicious. Perfect for a summers day in Cape Town. Actually this ice-cram is perfect for any day of the year really ;).
I've really started getting into making my own ice-cream, it always turns out way more delicious than store bought ice-cream. The thing I love the most about making your own ice-cream, is the fact that you can really make any flavour you want. You can make something creamy and exotic like Avocado Ice-cream or something more refreshing like Coconut-Watermelon Ice-Cream or... you could make something perfect like this Creamy Homemade Cherry Ice Cream. The ice-cream world is your oyster ;).
I never thought it would be that easy to make your own Ice-Cream as well, I thought it was one of those "mystery" processes that one couldn't really make at home. But in fact it is actually fairly simple to make your own ice-cream, and once you've made it, you can use the same recipe to make pretty much any flavour. You could substitute the cherry for any other fruit like blueberries or strawberries. I really love the cherry flavour though. I simply used my little cheap Krups Ice-Cream Maker, it is easy to use, gets the job done and most all it doesn't cost a fortune.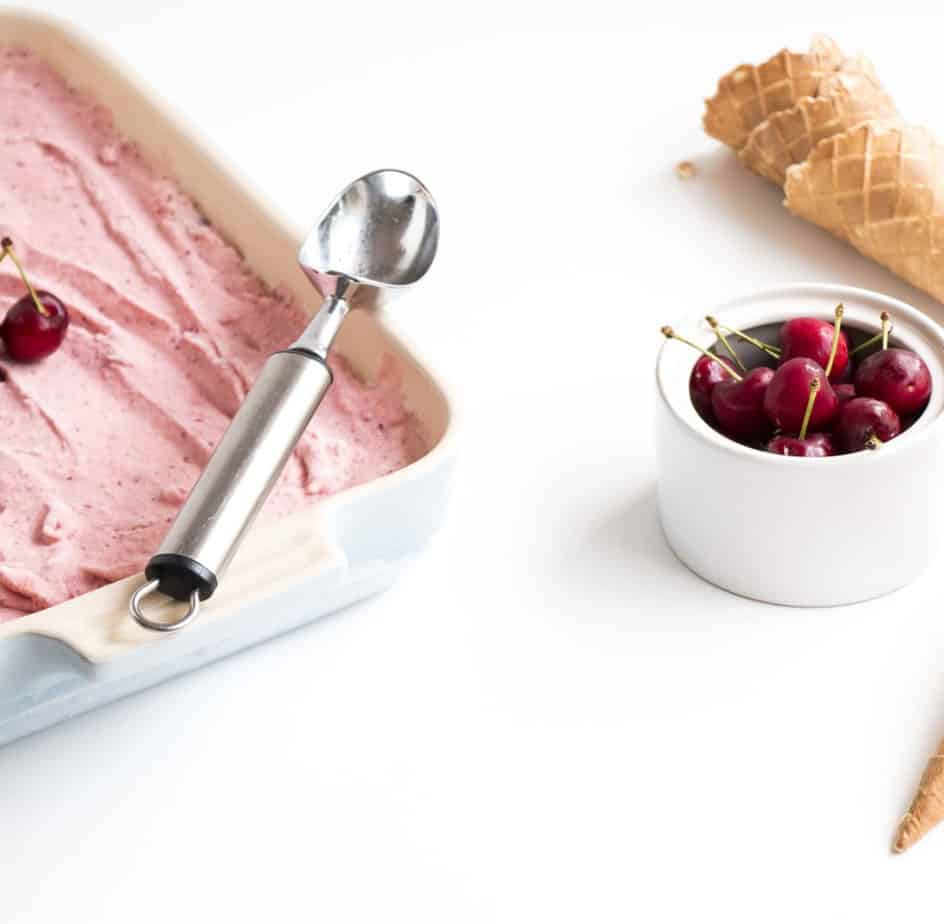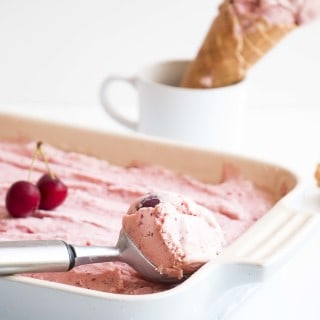 Creamy Homemade Cherry Ice Cream
Ingredients
500

ml

Cream

210

g

Sugar

30

g

Glucose Syrup

200

g

Egg Yolks

300

g

Frozen Cherries
Instructions
Combine the cream, 100g of the sugar and the glucose in a saucepan and allow it to simmer.

Meanwhile, blend the eggs with the remaining sugar.

Temper the mixture into the cream mixture by slowly adding ⅓ of the cream mixture into the egg mixture and whisking constantly to ensure that the eggs do not scramble.

Add the egg mixture into the pot to the remaining cream and continue to cook while whisking constantly.

Continue to whisk the mixture until it thickens.

Strain the mixture and place in the fridge overnight.

Blend the frozen cherries until fairly smooth then add the blended cherries to the custard mixture and mix well.

Place the mixture into your ice-cream machine and follow manufacturers instructions.

Then place in a bowl in the freezer for a few hours.

Serve with fresh cherries.
For more delicious recipes straight to your inbox... sign up HERE or follow me on INSTAGRAM :).