Salted Caramel Popcorn Donuts - The most delicious baked donut recipe ever! Made with homemade salted caramel sauce and topped with caramel popcorn. Plus they're baked, so they're not that unhealthy.
Salted Caramel Popcorn Donuts guys!! OMG!! 3 of my absolute favourite things all wrapped up into one amazing dessert. Firstly, we have salted caramel. If you guys have been following me for a while, you would know that I am OBSESSED with salted caramel! I have made everything from a Salted Caramel & Chocolate Tart, to an absoloutely heavenly Salted Caramel & Pecan Chia Pudding. I love salted caramel in every and any form. The mixture of sweet and salty is pure heaven! Then there's the popcorn part, caramel popcorn to be exact. Who doesn't love caramel popcorn, am I right? As a child it was one of my all time favourite snacks. I loved the crunchiness of the popcorn and the chewy sweetness of the caramel...mmmm. For this recipe you can either make your own (I have an awesome and easy recipe over...here) or you can simply buy some caramel popcorn. Last but not least...it's DONUTS!! YUM! All 3 things are wrapped up into one awesome donut!
Since I bought my donut pan,  I have been completely obsessed with making donuts. Baked donuts are simply the shizz nizz. You can use pretty much any cake or muffin recipe and it works and it's delicious. It really gives you the freedom to be creative and go crazy with recipes. Hence, these magnificent Salted Caramel Popcorn Donuts.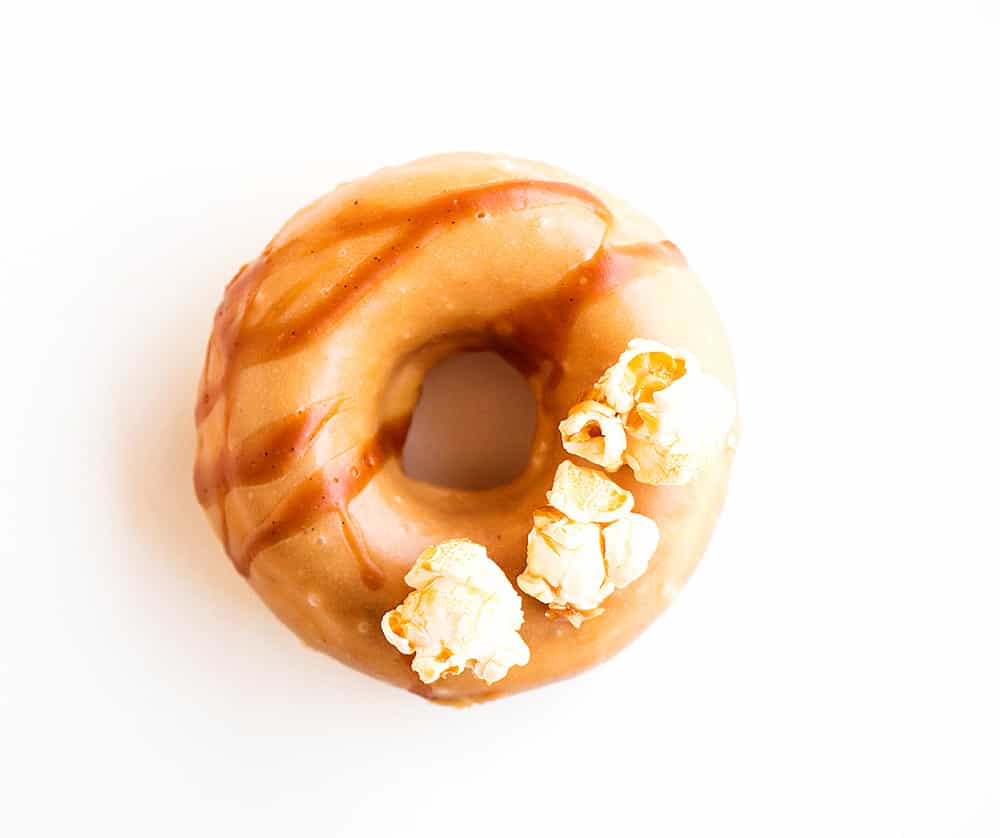 Related: Carrot Cake Donuts, Vanilla Chai Donuts, Nutella Glazed Donuts
I love making my own salted caramel sauce and keeping it in a jar for whenever the craving strikes. Therefore, you could make your very own salted caramel (it's super easy I promise) or even make your own Vegan Salted Caramel. But store bought salted caramel will work perfectly fine as well.
Salted Caramel Popcorn Donuts
Ingredients
For the Donuts:
2 ⅔

cups

flour

2

tsp

teaspoons baking powder

½

teaspoon

baking soda

¾

teaspoon

salt

¾

cup

sugar

½

cup

milk

½

cup

sour cream

2

large eggs

¼

cup

butter

melted

¼

cup

oil

3

tsp

Vanilla

¼

Cup

Salted Caramel Sauce
For the Glaze:
½

Cup

Salted Caramel Sauce

3

Cups

Powdered Sugar

more if not stiff enough

¼

Cup

Milk

Caramel Popcorn For Topping

Extra Salted Caramel Sauce To Drizzle Over
Instructions
For the Donuts:
Preheat the oven to 220ºC/425ºF and spray donut pan with non-stick spray.

Mix together the eggs, milk, sour cream, melted butter, oil and vanilla.

Stir in the flour, baking powder, baking soda and sugar.

Mix the wet and dry ingredients until well incorporated.

Stir in the Salted Caramel Sauce.

Pipe (or spoon carefully) the batter into the donut pan.

Bake for 8-10min and allow to cool slightly. Then transfer them to a wire rack and bake the remaining batter.
For the Glaze:
Mix all the ingredients together until smooth.

Add extra powdered sugar or milk depending on desired consistency.

Dip each donuts into the glaze and place on a wire rack to dry.

Top with caramel popcorn and drizzle over salted caramel sauce.

Devour!