Kale Berry Smoothie - A easy smoothie recipe that is packed with antioxidants and energy boosting ingredients.
Want more? Why not subscribe to get all the latest recipes straight into your inbox. 🙂 Subscribe HERE!!
This weekend was really amazing. I got to watch my all time favourite artist live in concert. Ben Howard was simply fantastic! He isn't like these typical singers nowadays, who sound great on their albums and then sound like a choir of screeching cats when you hear them live. Nope, he was even better than his album. Okay… this is starting to sound like a marketing plot. What I am actually getting to is that what always happens is when I go away for the weekend, or I attend events (in this case Ben Howard) I completely fall of the wagon when it comes to eating healthily and training. So this weekend I totally pigged out, I ate doughnuts, chips, chocolate and tons of other rubbish. I also skipped my training on Friday :(. So this morning I was determined to try and undo all the harm I had caused to my body, not that I'm saying that I totally regret it ;).
The first thing I did this morning was hit the gym. And I worked by butt off!! So that's a good start right? I then made this delicious smoothie, filled with all kinds of goodness! This kale berry smoothie is packed with "post pig out" fixing qualities. We have all heard about kale… And yes it really is that all mighty! Kale is literally a superfood! It contains a ton of vitamins (A,K,C,B6), and not just a little bit of these vitamins, it has a crap load (excuse my french) of each vitamin. Kale is also a low-calorie food, which is always a good thing after a hectic weekend, it is also a great source of fiber and has literally NO fat in it! What more could you ask for? Well… there is more, it is packed with antioxidants that help fight against cancer, it is also a powerful detox food (which in this case is all I care about), this is because it has large amounts of both fibre and sulfur which are really great for detoxing your whole body and especially your liver.
I honestly thought that because of all the Kale I put into the smoothie that it wouldn't really taste that great! But it was delicious. That might of been because of all the other stuff I threw into my NutriBullet… in my defence all the other ingredients are also super healthy. Apart from the kale, I added a papaya which is filled with vitamin C, I also threw in some frozen mixed berries (more antioxidants), banana(potassium), almond milk and almonds (I was really hungry).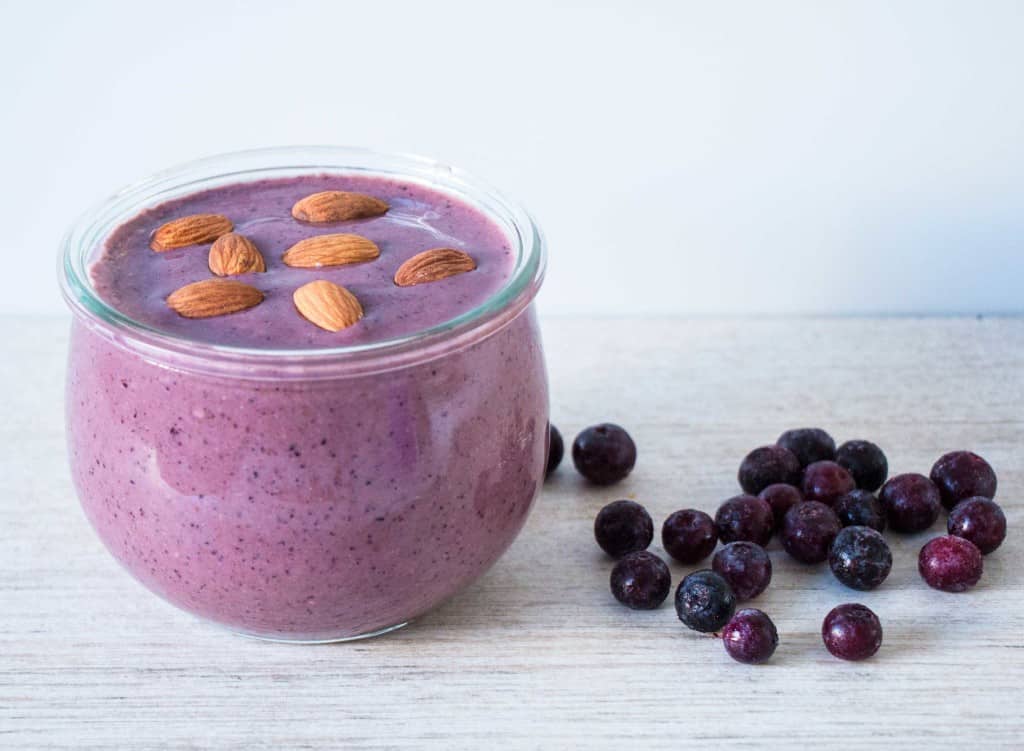 I often also make this smoothie when I've had a gigantic late breakfast and I don't really feel like having lunch. It's really filling because of all the almonds and almond milk, but it doesn't make you feel overfull (which is the worst feeling).
Kale Berry Smoothie
Ingredients
2

Cups

fresh Kale

1

Cup

frozen Berries

1

Cup

Almond milk

add more if it's too thick

1

Banana

¼

Cup

raw Almonds

1

Cup

Ice
Instructions
Chuck all the ingredients into your blender.

Blend until smooth.

Add extra almond milk if it is to thick.

Enjoy.
Here's a perfectly pinnable image for this Kale Berry Smoothie so that you can save it for later 😉 YUM!