This refreshing Cucumber Gin & Tonic Cocktail is an easy and delicious twist on the classic G&T. This crisp and chilled drink is the best summer cocktail out there!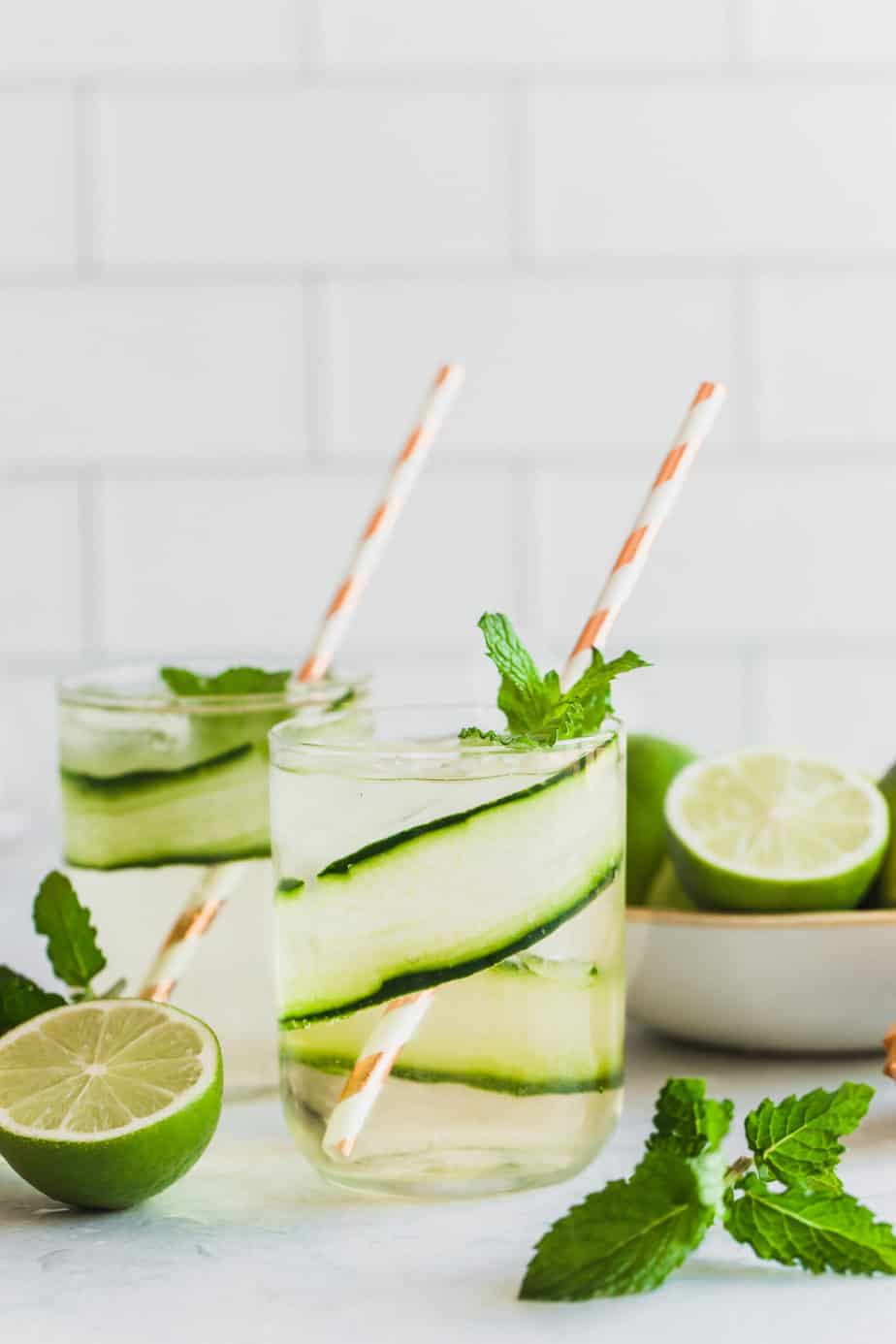 An Easy Cucumber Gin Cocktail Recipe
I'm a sucker for a gin cocktail! My Pink Grapefruit Gin Cocktail is still one of my favourite cocktail recipes ever. But this cucumber G&T might become my new winner!
This cucumber gin cocktail is so light and refreshing. It is a well-balanced drink that can easily be adapted to your exact preferences.
Cucumber complements the flavor of gin perfectly. And this Cucumber Gin & Tonic is served chilled which makes this drink perfectly crisp, cold, and refreshing!
Jump to: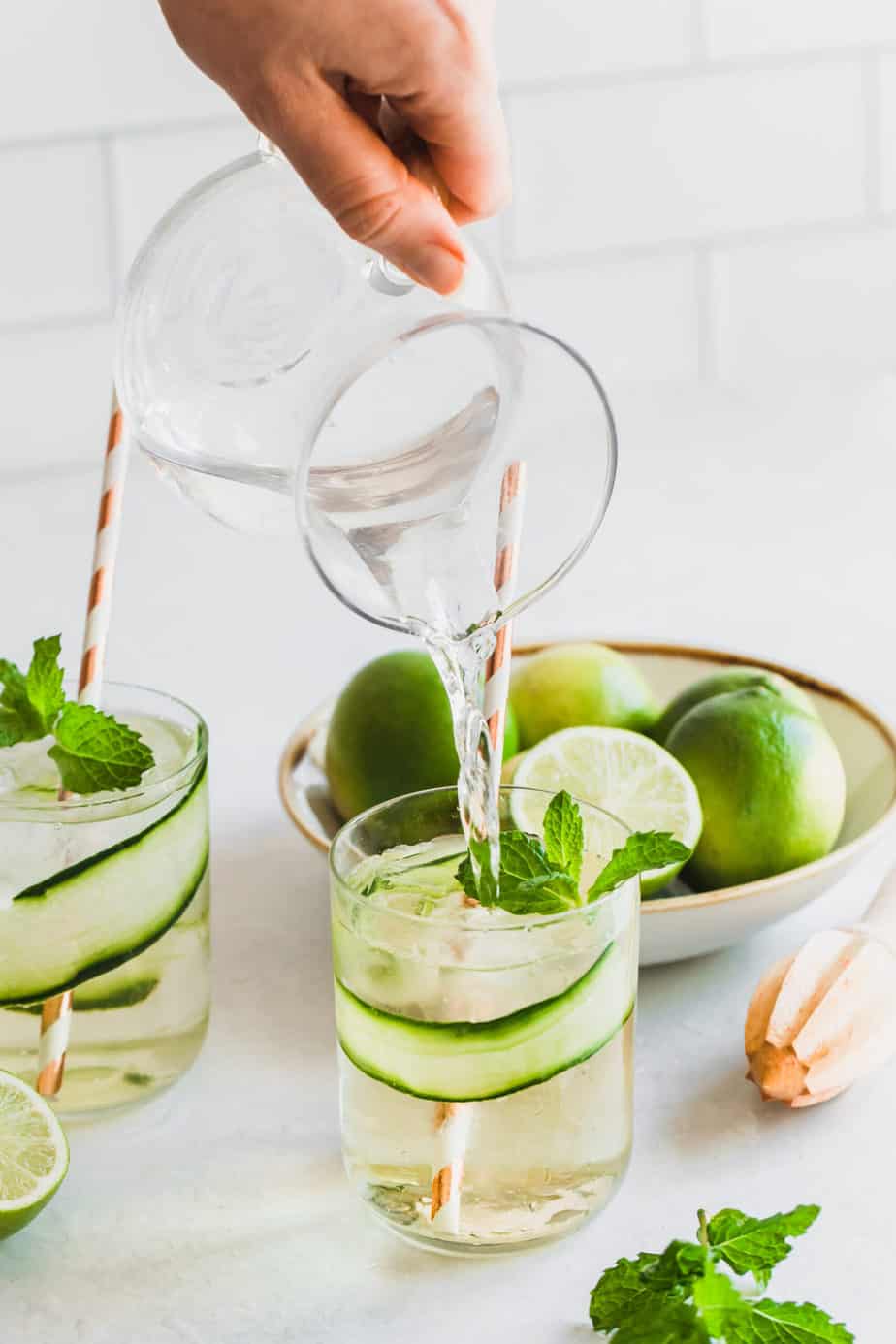 Ingredients & Notes
Gin - You can use your favorite type and brand of gin. Some of my favorites include Empress Gin and Tanqueray Gin, these are both great options for making cocktails. (Alternatively, to make a non-alcoholic gin mocktail version, omit the gin entirely or replace it with your favorite non-alcoholic version)
Lime Juice - Use freshly squeezed for the best flavor.
Tonic Water - Gin and tonics are traditionally topped with tonic water - but for extra sweetness, you could use lemonade or Sprite instead.
Cucumber - Fresh cucumber for garnish as well as for flavoring the cocktail.
Ice - This keeps the cocktail chilled and refreshing.
DIFFERENT TYPES OF GIN
London Dry Gin - With a strong juniper taste this type of gin is definitely the most popular gin.
Plymouth Gin - This gin is even dryer than London Dry Gin and has a slightly spicier flavor.
Old Tom Gin - With added liquorice, this type of gin is slightly sweeter than your typical gins.
Genever Gin - This is the original, first gin that comes from The Netherlands. It is sweet and aromatic and is often used in cocktails.
Choose your gin - The quality of the gin will greatly affect the taste of your cocktail. Try it out with a few different types of gins to see which one you like best. Different gins all have different flavor undertones and you'll definitely like some more than others.
How To Make A Cucumber Gin & Tonic Cocktail
The best thing about this gin cocktail recipe is that it is incredibly easy to make and only uses a few ingredients. To make the cocktail follow these simple step-by-step instructions:
Step One: In a cocktail shaker, muddle the lime juice and cucumber.
Step Two: Add the gin and ice cubes. Give it a good shake.
Step Three: Fill two serving glasses with ice and strain the drink into the glasses.
Step Four: Top with tonic water and garnish with extra cucumber.
How To Muddle Cucumber
The best way to muddle cucumber is to use a cocktail muddler. But a spoon does the trick too.
To muddle cucumber, dice up the cucumbers and press down firmly using your spoon or cocktail muddler. Muddle until the cucumbers are macerated and have released some of their juice.
How to cut cucumber for gin and tonic:
Slice the cucumber lengthwise into a ¼-inch wide strip using a vegetable peeler or sharp knife. Cutting your cucumber this way allows the maximum flavor and makes the drink look refreshing and unique. The longer cucumber cut will infuse the drink with more cucumber flavor than a traditional cut disk of cucumber.
HOW TO MAKE A MOCKTAIL VERSION
To turn this gin cocktail into a mocktail, simply leave out the gin from the recipe. The drink will still be full of flavor and absolutely delicious. Another option is to replace the gin in the recipe with your favorite non-alcoholic gin to create a delicious mocktail.
Gin Cocktail FAQS
Which gin goes with cucumber?
Almost any gin works well with cucumber. Gordon's Dry Gin and Empress Gin are great gin options for making gin cocktails with cucumber.
Is gin the healthiest alcohol?
Gin is considered one of the healthiest alcohols as it is made with juniper berries and contains herbs that aid in digestion.
Is Sprite good with gin?
Sprite is a perfect mixer for gin. The sweetness from the sprite balances out the dryness from the gin. If you prefer a sweeter gin cocktail, use sprite instead of club soda or tonic water.
SHOULD GIN BE REFRIGERATED?
Gin does not need to be refrigerated. If you're planning on making a refreshing cocktail then keeping your gin in the fridge is always a simple way to make sure your cocktail is cold and delicious.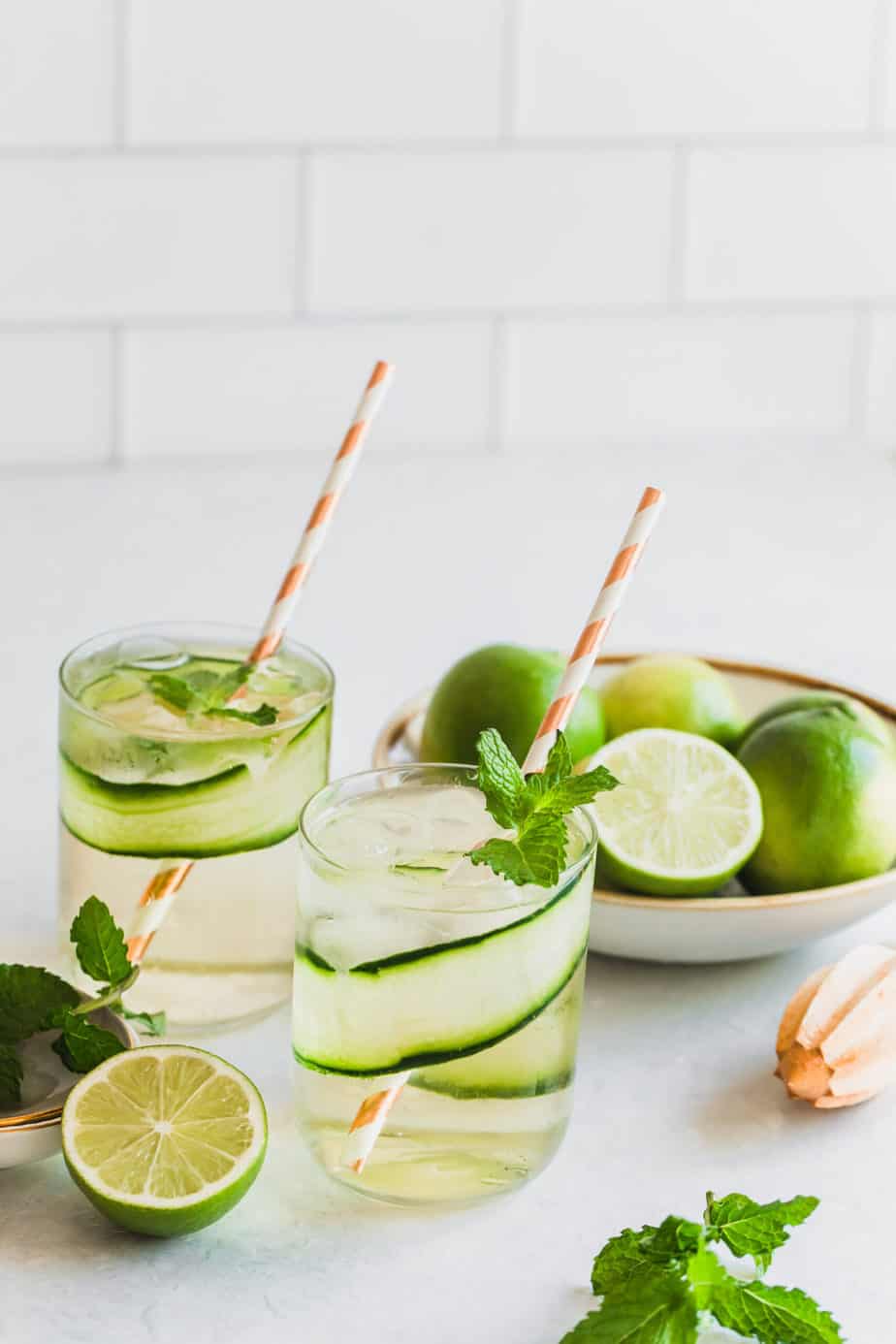 More Gin Cocktail Recipes:
Easy Cucumber Gin Mojito
A refreshing twist on a classic mojito recipe. Made with freshly squeezed limes and filled with refreshing mint flavors.
Ingredients
½ cup diced cucumber
Juice from 1 lime
4 ounces gin
8 ounces tonic water
Extra cucumber for garnish (cut into strips or disks)
Instructions
Place diced cucumber and lime juice in a cocktail shaker and muddle using a spoon or cocktail muddler.
Add the gin and shake well.
Fill two glasses with ice and strain cocktail mixture between the two glasses.
Top with tonic water and garnish with fresh thin slices of cucumber.
Notes
*Use a peeler to create thin slices of cucumber for the garnish.
I hope you love this Cucumber Gin & Tonic Cocktail recipe as much as I do! And if you want to see more of my food adventures, follow me on Instagram or Facebook.