Chewy Choc Caramel Rice Krispy Bars - The perfect combination of sweet, chewy and crunchy. So easy to make and always a winner.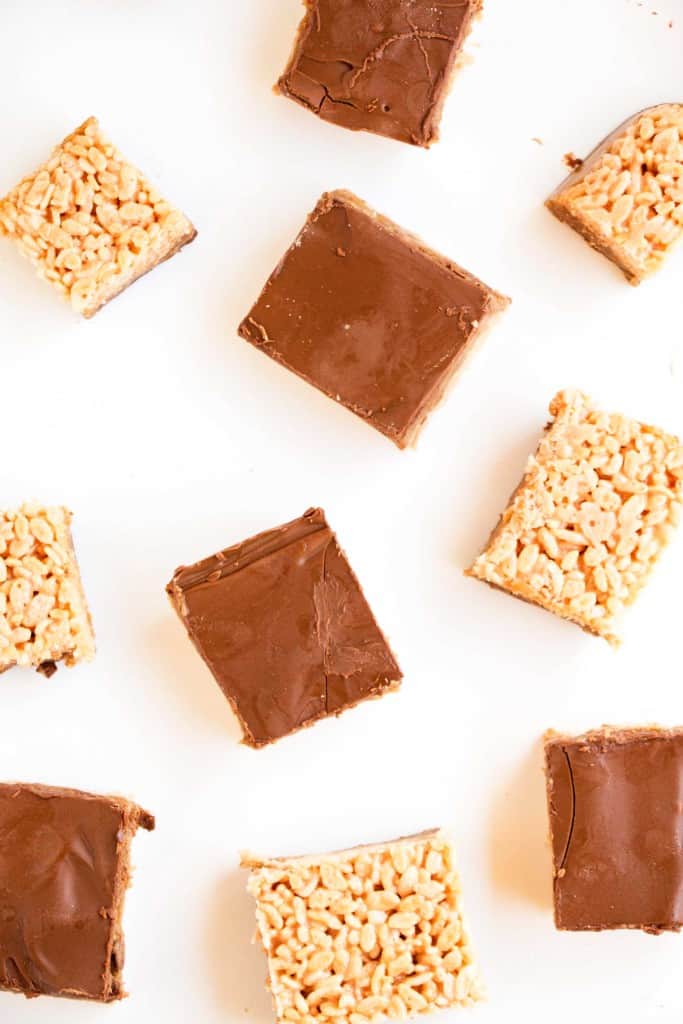 These Chewy Choc Caramel Rice Krispy Bars... there's not much that I can say about them. They are pure decadence. Absoloutely delicious. And perfect in every possible way. You start off with a crunchy (and some how chewy at the same time) layer of my favourite childhood cereal (who remembers snap, crackle and pop?). Then you move up to the most delicious chewy and creamy caramel layer that is just oh so decadent and then end it off with a hard shell of pure chocolate. Honestly, I can't think of anything better than that.
These Chewy Choc Caramel Rice Krispy Bars are one of my favourite things to whip up when I really want to go all out. When I've given up on my diet and decided that the gym is totally not worth it. Or when I have simply just had a terrible day and am in need of some serious comfort eating (we have all been there). It is in these situations when these bars come to my rescue. They are so easily thrown together and they satisfy every last bit of your sweet tooth.
To start off, all you do is combine some Rice Krispies, marshmallows, butter and a little vanilla together in a bowl. Then press that into your favourite dish. Then you can get started with the Caramel Layer. If you are really feeling lazy and in desperate and immediate need of a bit of a sugar rush, then you can simply use store bought caramel for this layer. But I made a VERY quick homemade caramel. It is made from condensed milk, brown sugar, butter, vanilla, and a pinch of salt. All you have to do is combine the sugar, condensed milk and butter in a saucepan and allow it to simmer a little. Then add the vanilla and salt and there you have it. A simply delicious caramel in minutes (you can always eat the extras just like that). Lastly, melt a little chocolate and pour in over the caramel layer. And that's the  Chewy Choc Caramel Rice Krispy Bars ready to be eaten. It's pretty much therapy in a dish. 😉
Chewy Choc Caramel Rice Krispy Bars
Author:
Prep time:
Cook time:
Total time:
Ingredients
Rice Krispy Layer:
100g Rice Krispies
150g Marshmallows
50g Butter
1tsp Vanilla
Caramel Layer:
1 Can Condensed Milk
100g Brown Sugar
100g Butter
2tsp Vanilla
Pinch of Salt
200g Chocolate
Instructions
Rice Krispy Layer:
Spray a rectangular dish with non-stick spray.
Combine the butter, marshmallows and vanilla in a pot over medium heat and stir until everything is melted and combined.
Remove the pot from the heat and stir in the rice Krispies until well combined.
Press flat into a dish (I used a 20cm dish), making sure it is flat and compact.
Place in the fridge for about 15min.
Caramel Layer:
Combine the condensed milk, sugar and butter in a pot over medium heat.
Stir until sugar dissolves and then allow to simmer (until soft ball stage).
Remove from heat and stir in the vanilla and salt.
Allow to cool for a few minutes than pour over the chilled Rice Krispy layer.
Place dish in the fridge to allow the caramel to set for about 10min.
Chocolate Layer:
Chop the chocolate roughly and place in a microwaveable bowl.
Melt the chocolate in the microwave, stirring every 30 seconds.
Pour over the caramel layer and place in the fridge for at least 10min before serving.
Devour.
[yikes-mailchimp form="1" title="1" submit="Submit"]
Love it? PIN IT!